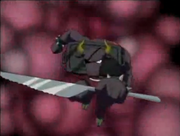 Based on: Steak
Apperance: Steak King is an enourmous, dark purple, evil looking, anthropomorphic bull. He sports an eye patch, spiked wristbands, and a steak platter for a neck. He also wears what appears to be a red spandex wrestling singlet.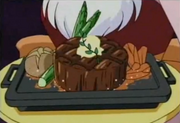 Powers and Abilities: Steak King is extremely powerful. He uses a giant steak knife for melee attacking and is able to throw his spiked wrist bands, which will come back to him, much like Sir Loin and his head throwing technique.
Steak King is one of the most powerful Foodons to ever serve King Gorge.
In the anime
[
]
His first and only appearance was in episode 24 of the anime when he was given to Clawdia by King Gorge.
Chase and the gang were finally able to defeat him when Omelet, Sir Dumpling, Cowboyritto, Burnt Meatballs, and Fried Ricer concentrated their energy together to shoot a beam of energy from Fried Ricer's spoons.
There was a Steak King look-a-like in Episode 2 that helped the Glutton Empire in their invasion upon Horai.
Bistro Recipe
[
]

Steak King is known simply as "Steak" in the games and is the non-upgraded form of Sir Loin. Class 1 meat-type.
Recipe:
ぎゅにくgyuuniku (beef)
しおshio (salt)
Variations:
add ??? for sirloin steak (Sir. Loin)