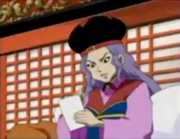 Oslo is a Grub Guru and was King of all Food until his student Chef George reverted him to a short man who rides on a floating saucer, following his Fried Ricer's defeat at the hands of his Fowligator. After this, the aforementioned student overthrew King Oslo and became the new King of Food, King Gorge.
He has trained Chef Jack, and after he was freed from a glutton concentration camp, he trained Chase to become a Master Chef. Oslo was one of the most important characters to the show, but he also had comedic purposes.
The swirly hair on his head contains all of his magical power. 
Community content is available under
CC-BY-SA
unless otherwise noted.