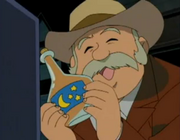 Mayor Slim Rations is the mayor of Dusty Town.
He and his fellow citizens were suspicious of Chase and Co. when they wanted to try the secret salsa, called the Salsa Especial, and had them imprisoned. Following an attempted raid by the Foodon Banditos, Chase and Co. managed to escape. When Mayor Slim Rations asked Sheriff Zuke Squash what would happen if they lost the salsa, Zuke quoted that they can make more. Mayor Slim Rations yells at him, stating that they can't make more since they lost the recipe.
When Clawdia attacked Dusty Town with Doughnasour in order to steal the Salsa Especial, Chase and the Foodon Banditos worked together to stop Clawdia and Doughnasour, which resulted in Tacquito getting injured while saving the mayor. In an act of kindness, Mayor Slim Rations used the Salsa Especial to help Tacquito recover. In the end, he and Tacquito sing a song called "Libre Los Foodons" (Free the Foodons)
His Foodons are a red Juice Man-like Foodon with green spikes and a blue crab Foodon. It's possible that Sherrif Zuke Squash is his Foodon too, but that's unknown.
Voiced by Ted Lewis.