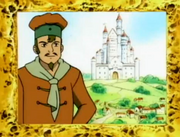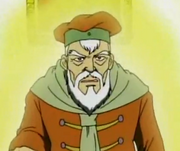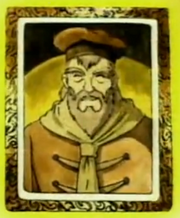 Master Flabio Flambé was a chef who worked in the once-beautiful Flambé Mansion deep in Flambé Forest.
Here's the story: A long time ago, there was a spoiled princess by the name of Princess Cupcake (who looks a lot like Kayla). She was very picky when it came to her meals, and one day she asked her top chef, Master Flambé, to make her a pizza.
So he had the finest ingredients in the land delivered to the royal kitchen and paid great attention to each and every detail. But the princess was too impatient, and by the time the masterpiece pizza was finished, she had already grabbed a slice at the local pizza parlour downtown, where the service was a little faster.
Brokenhearted, his pizza getting cold, Flambé waited as long as he could. Eventually his ghost, along with his Foodons Slice and Frenchy le Toast, began to haunt Flambé Mansion.
Oslo reproached Flambé, telling him he was making a mistake: "A great master chef should cook for the sheer joy of cooking, not to receive a compliment!" This accusation agonized the ghostly chef, but he and his Foodons' souls were finally put to rest when Kayla tried the pizza and said it was delicious. Master Flambé took this as Princess Cupcake's approval, and was thus finally able to rest in peace.