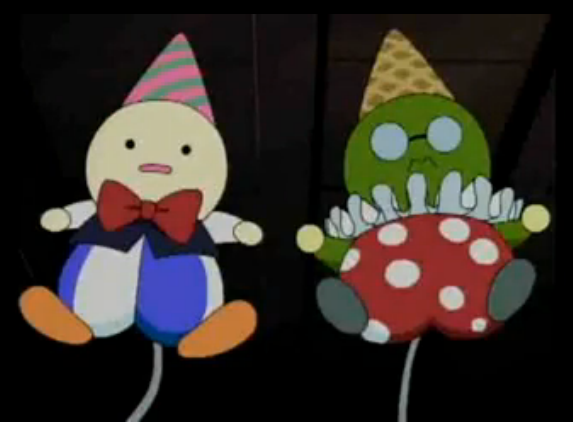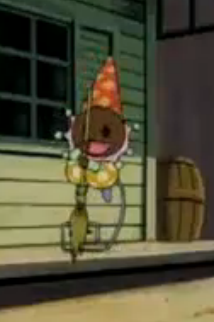 These whimsical Foodons seem to populate much of Dusty Town. They each balance on springy tails which vary in shape by individual. Indeed, they are a very variable Foodon, with different attire and colours between each.

Based on: Ice cream
Bistro Recipe
In the games, the three flavors are differentiated into three separate Foodons.
アイスクリーム Ice Cream

Based on vanilla ice cream. Class 1 sweet-type.

Recipe:
Unlock:

Received upon defeating Jennifer at Banana Unga in New Rourke.

From then on:
Variations:
add まっちゃmaccha (matcha) for まっちゃアイスMaccha Aisu
add チョコレートchokoreeto (chocolate) for チョコアイスChoco Aisu
Attacks:
lvl 1: つめたいかぜtsumetai kaze (freezing wind) [typed]
lvl 9: コチコッチンkochikocchin [typeless][-HP][FRZ]
lvl 21: あまいいきamai iki (sweet breath)
Topping effects:
Any fruit = 三位一体
すsu (vinegar) = mold status
まっちゃアイス Matcha Ice

Based on green tea ice cream. Class 2 sweet-type.

Recipe:
Unlock:
From then on:
Attacks:
lvl 1: たいあたりtaiatari (body slam) [typeless]
lvl 1: コチコッチンkochikocchin [typeless][-HP][FRZ]
lvl 9: ひやしちゃhiyashicha (chilled tea) [typed][-HP][FRZ]
lvl 21: こなふぶきkonafubuki (falling flour) [-HP][strong]
Topping effects:
Any fruit = 三位一体
しょうゆshouyu (soy sauce) = numb status
チョコアイス Choco Ice

Based on chocolate ice cream. Class 2 sweet-type.

Recipe:
Unlock:

Ice Cream recipe + チョコレートchokoreeto (chocolate)

From then on:
Attacks:
lvl 1: つめたいかぜtsumetai kaze (freezing wind) [typed]
あまいかほりamaikahori [-HP][SLP]
チョコットchokotto [-HP]
ひっかきhikkaki [typeless]
Topping effects: