Jurassic World: Dominion Dominates Fandom Wikis - The Loop
Play Sound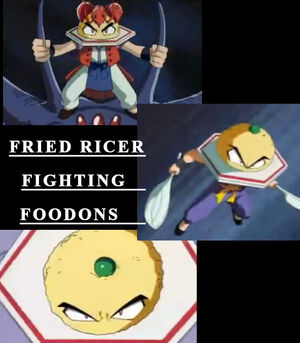 Fried Ricer is Chase's main Foodon and his second (as well as first successful) Foodon during the series, after the Burnt Meatballs. Its attacks employ dual spoons (which are commonly mistaken for frying pans), which are capable of firing rice-like projectiles and even beams of energy. He evolves into Super Fried Ricer when in the presence of Fruit Turtle or Feastivus. Super Fried Ricer is both stronger and faster, and sports a lobster on its head.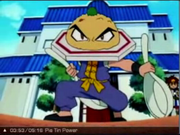 Fried Ricer had Cephalophobia (fear of octopus and squid) until he got over it upon his fight with Cole Slawter's Octopoison and Squid-Vicious (made from the same giant octopus and giant squid that terrorized Sardinia).
Personality: Even though Fried Ricer can't talk like a human doesn't mean he isn't filled with personality! Fried Ricer is a brave, strong Foodon character that puts other people's needs and concerns before his own. He later seems to permanently evolves to Super Fried Ricer after merging with Palator. Based on: Fried Rice
Voiced by Andrew Rannells.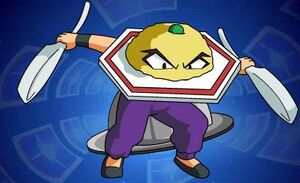 Other Fried Ricers in the Series
[
]
In Oslo's memory during his time as king, he had a Fried Ricer that looked exactly like Chase's. It was used during King Gorge's rise to power where it lost to King Gorge's Fowligator.
A member of the Foodon Banditos looked surprisingly like Fried Ricer, but is in fact another rice Foodon called Jambalaya.
Bistro Recipe
[
]
In the games, what was known in the anime as "Fried Ricer" and "Super Fried Ricer" are actually two separate Foodons.
チャーハン Chaahan
[
]
Fried Ricer is the second Foodon obtained in the first Bistro Recipe game. His recipe is the first one you will obtain that you do not begin the game with.
Based on fried rice.

Recipe:
Unlock:

Received upon first defeating Marcy at Ten Shin Mon in Xian Hao.

From then on:
Variations:
Attacks:
lvl 1: ジュージューjuu juu [typeless]
lvl 11: まっぷたつmapputatsu [typeless]
lvl 21: はやさアップhayasa appu (speed up) [-HP][+SPD]
かかとおとしkakato otoshi (heel drop) [typeless][-HP][x2]
Topping effects:
エビチャーハン Ebi Chaahan
[
]
Based on fried rice with shrimp. In the games, this is a separate Foodon from Chaahan, rather than a "powered-up" form that it can change back into.

Recipe:
Unlock:
From then on:
Attacks:
lvl 1: こめつばてkome tsubate
ひっかきhikkaki [typeless]
エビチャージebi chaaji (ebi charge)
かかとおとしkakato otoshi (heel drop) [typeless][-HP][x2]
はやさアップhayasa appu (speed up) [-HP][+SPD]
Topping effects:
​Triva
[
]
In the anime, Fried Ricer was among the group of Foodon whose verbal communication consists only of repeating their own name.
In the original Japanese version of the anime, his name is "Chaa-man" (チャーマン), a pun on the name of his origin dish that incorporates the English word "man".